Happy New Year! Welcome to January, or month 7 since we made the decision to build. Throughout 2021 the housing market continued to worsen and inventory of existing homes is at an all time low. Prices for what is available are higher than ever. It feels like a ton has happened since my last blog in October, yet no actual construction has begun. I'm happy to share that we have a final set of plans now, we closed on the land, I've designed the kitchen, butler's pantry, mudroom, primary bathroom, and laundry room with specialty cabinet makers, secured a construction loan and building permits have been submitted for approval to the county. Oh, we also decided to move from the apartment into a house to give ourselves a bit more space and privacy. I don't have to work from my daughter's bedroom anymore and my husband is no longer working from the bathroom. Phew, we're exhausted!
Check out the front elevation
Getting the plans finalized took longer than it should have. Once again this was due to the architect making changes with each iteration. Some changes were structural but many were purely his idea of what might look nice in a particular space. Each time the plans were sent back to us, I meticulously went through every detail to catch these sometimes slight yet consequential changes. For example, one version included an intricate ceiling design in the primary bedroom that we did not ask for. This not only changed the budget, it was not in line with the style of the home. The bedroom went from a modern design to a farmhouse look. Another set of plans included a drinking fountain in a bathroom. Why would we ever want that?!? While there are still a few minor imperfections in the plans, we needed to have them submitted quickly to the township or we would risk delays with the approval process. I'm comfortable that the changes I'll want made can be easily addressed as the architect creates renderings and later resolved by my builder when construction begins.
Primary bathroom vanity inspiration & design plans
A peek at a few kitchen plans
The process for purchasing the land should have been a simple one but there were a few twists and turns with that too. The land we have is premium real estate which "should" appreciate significantly over time. With the housing market in such flux, people are willing to overpay for existing homes as well as land. Our builder owned the land and charged a hefty price for it. Still, he was receiving offers well over his asking price from other interested parties. Fortunately, he kept his word (and our deposit) to hold the land for us. He made certain however to add a clause in the land agreement that the sale of the lot was contingent upon us signing a construction loan. This prevented us from buying his lot and then hiring someone else to build the house. Smart move on his part, especially since I designed the plans and now owned the rights with a clause we had him sign agreeing not to sell our plans or to reproduce another home using our designs. We, therefore, had to fully execute two contracts (one for the land and one for the actual construction) before we could buy the lot from him. I was so thankful for our real estate attorney who was a true partner during this phase of the project. The realtor that the builder used was horrible and made demands without informing his client which created a ton of confusion and delays. Eventually, we got through this and with two mutually agreed contracts in place, the air seemed much lighter.
Photos of the lot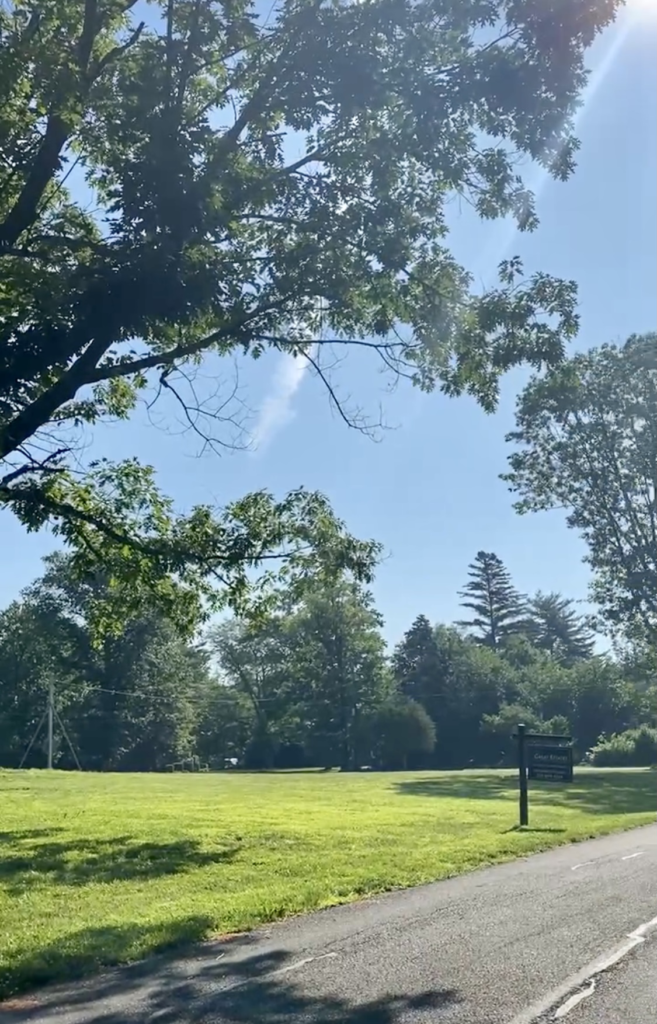 With all of the boring legal and admin stuff out of the way, I'm looking forward to the team breaking ground this month! Our design choices will need to be finalized in the coming months and I feel ready to tackle this, no matter how daunting all these decisions will be. I'll be sure to let you know how the guys handle construction during the winter months and how the latest rise in Covid cases impacts our progress. Most of all I'm immensely grateful that my family continues to be healthy, together and thriving during these difficult times. Building our next home is an amazing privilege that we do not take for granted. I'm holding onto good vibes only in 2022 so please channel positive energy our way!
Cheers to you all🥂